Action Kids Song and Rhyme Book 2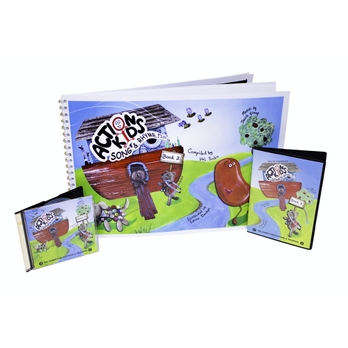 Action Kids Song and Rhyme Book 2
ITRP06570
Direct Delivery – up to 7 days
Product Description
There are 3 Action Kids Song & Rhyme A3 books with brightly illustrated 3D-effect pictures containing an average of 16 traditional songs and nursery rhymes in each. Accompanying each book is a CD of music and vocals and a DVD for children to copy actions to the songs.
These actions are on two levels of difficulty – one for very small children and the second level for more co-ordinated ones.
As well as encouraging "Physical Development with fun" these books are an invaluable aid to the development of language and communication, recognition of words, and singing. Children can be encouraged to sustain attentive listening, listen with enjoyment and respond with movement, extend their vocabulary and develop clarity and confidence in their speaking.
Special relationships can be developed through one-to-one activity, sense of community through signing and doing actions as a group, or individual independence can be nurtured when the child chooses to use the CD or DVD on their own and finds out how to operate the machine.Book 2 Contents:
• Ten green bottles
• Bingo
• Farmers in the dell
• Fire fighters
• If you're happy and you know it
• Jelly beans
• Little Jack Horner
• London bridge
• Michael row the boat ashore
• This old man
• Old King Cole
• Polly put the kettle on
• Hickory dickory dock
• The animals went in two by two
• The bear went over the mountain
• There's a hole in my bucket
Naturally children want to move, to the music so we have created a DVD showing actions to the songs and rhymes in the book.
As children copy the actions and keep to a beat, it develops their physical co-ordination and improves their listening skills. Moving with an adult or other children also gives opportunities for the development of personal, social and emotional skills. The rhymes stimulate conversation, enabling children to develop a greater knowledge of the world. Throughout, children are exercising their imagination and creativity.
The DVD can be played on a DVD player, on a computer, or through an inter-active whiteboard. Children can experience either level 1 which are simple actions performed on the spot or level 2 where the actions are more complex and move off the spot.